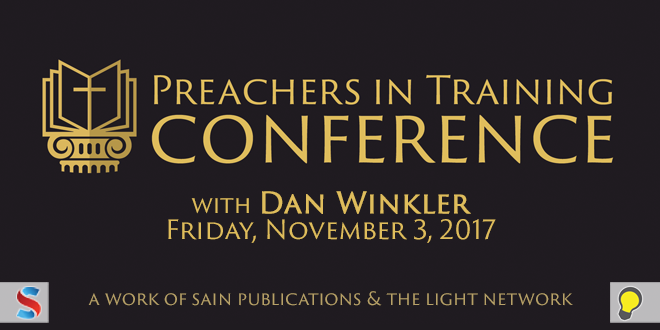 About the Conference
The Preachers in Training Conference is a one-day intensive online seminar designed for men who proclaim God's word from the pulpit. The date for the 2017 conference is Friday, November 3. Since it is an online event, you will be able to attend from anywhere in the world.
The conference will begin at 9:00 AM central time and will end around 12:15 PM central. There will be three lecture sessions given by our speaker. After each lecture, we will have a 15-20 minute Q & A session during which conference attendees may submit questions for our speaker to answer live. This will give conference participants essentially one-on-one access to ask our speaker specifically about the topic just discussed, or generally about preaching and ministry.
About the Speaker
DAN WINKLER has been preaching the gospel since 1969. He is the author of many Bible class books, and speaks widely across the brotherhood. He is beloved for his exegesis and exposition of Scripture, and for the way he helps us all be closer to our Savior.
Conference Schedule
9:00 – 9:10 — Welcome and Introductions
9:10 – 9:40 — The Man: The Kind of Preachers the Church Needs
9:40 – 10:00 — Live Questions & Answers
10:00 – 10:45 — The Message: The Kind of Preaching the Church Needs
10:45 – 11:00 — Live Questions & Answers
11:00 – 11:45 — The Ministry: The Work of a Minister
11:45 – 12:00 — Live Questions & Answers
12:00 – 12:15 — Conclusion
Cost to Attend
The Preachers in Training Conference costs $25 to attend. A fee is necessary to cover the costs of the event. For this fee, you get:
Access to the live event (live video stream)
Digital materials associated with the conference
Access to the recordings and all digital materials made available at the Preachers in Training Conference for your lifetime.
And much more. We are committed to making the conference be a worthy investment of your time and your money. We are putting together encouraging content, curated specifically for preachers.
We do not want this cost to be prohibitive. If you would like to attend but cannot afford the fee, consider asking your elders if the church can send you to the conference.
How to attend
The conference will be live streamed to paid attendees via Facebook. You must have a Facebook account to attend the conference. Further instructions for participation will be given when you checkout.
Get More Information
Subscribe to the Preachers in Training Conference email list to be kept up to date regarding this event.