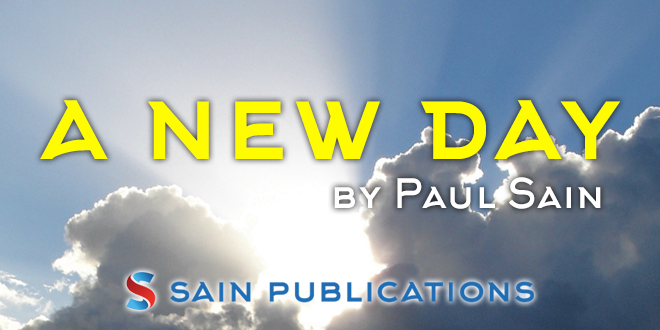 A "new day" describes the "new adventures" beginning with this post. We are thankful and humbled with your gracious response.
So, what are our plans? Our goal simply stated is to bring practical ideas, book reviews, FREE materials, teachers' tools, sermon starters, and personal devotionals on a weekly basis to any who wishes to subscribe. While this is not a new idea, we are determined to offer materials that will aid you in your Christian pilgrimage on earth.
A few thoughts about the "Someone Died And Left You A Fortune" ebook that you will receive when you subscribe to our email list. Several thousand have been published to date and with good success. It is simple, a stand alone tool for those who read it privately, or a valuable guide in conducting a home Bible study. Several have offered their commendations and shared the methods in which they have used the volume.
If Sain Publications has touched your life in any way (books, DVD's, CD's, Bible class material, etc.), then you KNOW it is our passionate desire to stand in the "old paths" (Jer. 6:16). Tragically many have departed from the faith (1 Tim. 4:1ff). Others are falling prey to the lies of Satan that in order to reach the lost we must no longer stand firm in truth and speak sound doctrine. Consider with me a few "gems" from Jeremiah 6.
THE CONDITIONS THAT PREVAILED
The Lord was full of "fury" and "weary" (v. 11) with the people. They were full of covetousness and, from the prophet to the priest, they were evil (v. 13). They cried, "Peace, peace; when there is no peace" (v. 14). Tragically, they were not ashamed when they committed abomination, and they could not blush (v. 15).
WHAT DID THE LORD SAY?
There are multiple "action" words found in the powerful sixteenth verses:
Stand ye in the ways, and see. Jesus is the way (John 14:6). The ways of man may seem right (Prov. 14:12), but they end in spiritual death. Jesus said "only" those who do the will of the Father will be saved (Matt. 7:21-23).
Ask for the old paths, where is the good way. The "old" paths are everlasting and perpetual. The new things of life are great when we speak of technology, medical advancements, communication developments, etc. But the eternal purpose of God (Eph. 3:10-11) has been revealed to man and we must seek it, ask for it, pursue it for salvation.
Walk therein, and ye shall find rest for your souls. To merely know the truth is not sufficient for our salvation. We must not only hear, but be doers of the Word (James 1:21-25). Our Lord will save those who obey Him (Heb. 5:8-9). God has always required obedience to His will for blessings to follow.
WHAT WAS THE PEOPLE'S RESPONSE?
They simply declared, "We will not walk therein." They did not want to change. They loved their way, not the Lord's way. Similar to so many like Demas (2 Tim. 4:10), they loved the world and refused to give it up.
AND THE LORD SAID…
In verse 19 we read, "Hear, O earth: behold, I will bring evil upon this people … because they have not hearkened unto my words, nor to my law, but rejected it." Consequences result when man rejects God's will (Num. 32:23; Rom. 6:23).
A FINAL THOUGHT
These are exciting times – there are unlimited opportunities to reach the world with the gospel – open doors are before us – let us have a mind to work (Neh. 4:6) and fervently be busy about the Father's business (Luke 2:52). Yet, let us resolve to ask for, and walk in the "old paths" of the gospel which was preached on Pentecost (Acts 2). The gospel is still today the "power of God unto salvation" (Rom. 1:16). Our Saviour expects His faithful servants to take the gospel to every creature (Matt. 28:19; Mark 16:15; Luke 24:45-47), in every generation. To that end we enter this "new day." In all things – to God be the glory!